ESTfield 002
(Powered by 4 cyl BMW)

Click on images to see full size pictures

At the test station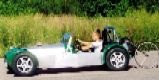 Road test 2001




Road test 2001




Now ready to take on
any weather




Now ready to take on
any weather


Built during 2000/2001 by Racetech Ltd


This the second ESTfield to leave RaceTech's workshop was fitted with an 1800cc BMW engine and BMW gearbox mated to a Lada live rear axle. Otherwise the specification of the car remained unchanged from the first car. The chassis however was now welded in the specially fabricated chassis jig. The owner himself finished off the car and made the windscreen and the weather gear.

See below for more details:(in Estonian)

The finished car's specification
and "Autoleht's" road test report of August 2001 and test results.